LA PIENEZZA NEL VUOTO
Solo exhibition
Edited and promoted by Associazione Figli d'Arte Cuticchio.
June 8, 9 and 10 – Monastero di S. Caterina d'Alessandria
June 12 – 18 – L'Altro Artecontemporanea
---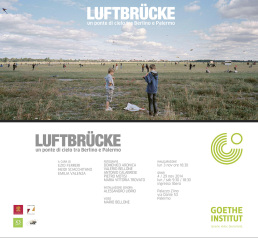 LUFTBRÜCKE – Un ponte di cielo tra Berlino e Palermo
Group exhibition promoted by Goethe Istitut, Galleria X3 and Municipality of Palermo.
Edited by Ezio Ferreri, Heidi Sciacchitano and Emilia Valenza
Palazzo Ziino, Palermo
November 4 – 29, 2014
---
MIFA
Group exhibition promoted by Moscow Int. Foto Awards
Fotoloft Gallery, Contemporary Art Centre Winzavod, Moscow
October 23 – 26, 2014
Moscow Int. Foto Awards conducts an annual award for professional photographers on a global level, creating an exhibition with winner photos of the competition.
---

ISOLA
Group exhibition promoted by neu[nòi] spazio a lavoro
Edited by Giusi Affronti
VUOTO 14, Cantieri Culturali alla Zisa, Palermo
September 26 – November 2, 2014
"Isola" is a collective project that brings together twenty-one Sicilian photographers under 40, that show Sicily through a contemporary vision.
---
SONY WORLD PHOTOGRAPHY AWARDS
Edited by Sony Corporation
Group exhibition
Somerset House, London
1-18 May 2014
---
GEOGRAFIE E STORIE DI TRANSIZIONI
Edited by X3 Gallery
Group exhibition
Palazzo Ziino, Palermo
April 9th – May 18th, 2013
---
MARE DI TERRE
A photographic crossing of Valerio Bellone
Solo exhibition
Dictinne Bobok, Palermo
from January 25th to February 8th, 2013
Preparation of the exhibition Laura D'Anna
Special thanks go to Marisa Russo, Michele Lombardi e Giovanna Soffientini
"A CIELO APERTO" – Marcello Faletra presentation (italian)
---
PUNTO 52, Termini Imerese (PA, Italy)
from November 15th to 23rd 2012
"NON PIÙ E NON ANCORA" – Vito Bianco presentation (italian)   |   "SINTONIE" – Giorgio Giuliano presentation (italian).
---
NUOVE[IM]PRESSIONI
(Newimpressions)
Group exhibition
Ex Colleggio dei Gesuiti, Alcamo (TP, Italy)
from August 16th to 23rd 2012
Nuoveimpressioni, now in its fourth edition, is an idea born from the desire to create a container that brings together the sicilian most popular photographers of the world.
---
Espace Doupon, Paris (France)
from July 10th to 17th 2012
The "Prix de la Photographie, Paris" (Px3) strives to promote the appreciation of photography, to introduce photographers from around the world to the artistic community of Paris.
---
FOTOGRAFI PER PALERMO
(Photographers for Palermo)
Group exhibition
Cannatella Gallery, Palermo
from April 27th to May 3rd, 2012
Event organized by Letizia Battaglia for promoting the photographic culture and the opening of an international center for photography in Palermo.
---
Edited by X3 Gallery, at the Mondadori Multicenter, Palermo
from March 17th to April 14th, 2012
The curator Giulia Scalia presentation (italian).